Agung Update. 10 June 2019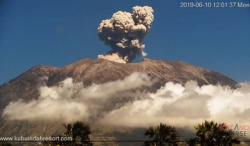 Click to Enlarge

The current Pacific forecast has some problems but the eruption of Agung isn't one of them.
The 10 June eruption follows 10 days of silence after the 31 May eruption.
The 31 May eruption was an earlier forecast success.
Speculative eruption forecasts are rife on Internet but without solar data they can only be random.
Todays eruption is small and may be repeated 12-13 June when new spaceweather potentially arrives.
Thanks.

Content © Roary Arbon 2013 - 2016
Website Design by Go Tech.