The Opposition of Jupiter. 11 June 2019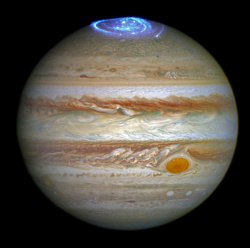 Click to Enlarge

Earth lies directly in a line between Jupiter and the Sun once every 399 days.
Jupiter is closest to Earth at Opposition and a good time to go outside with a good pair of binoculars.
Jupiter has all the features of Earth, an aurora can be seen in the photo.
Jupiter is not actually a planet but a red or brown dwarf star which drifted into the suns heliosphere and was captured, causing the star to stop glowing.
According to modern Electric Universe theory, if Jupiter could escape from the sun back out beyond the heliosphere it would start glowing again.
The famous "Red Spot" on Jupiter has faded in size dramatically in the last few months, puzzling astronomers but is just a sign of low solar activity and the slowing down of Jupiters jetstreams.
Many people believe planetary alignments are a cause of earthquakes so today is a good chance to test the theory at the Opposition of Jupiter.
Thanks.

Content © Roary Arbon 2013 - 2016
Website Design by Go Tech.