Aotearoa Summary. 11 July 2019 - 22 July 2019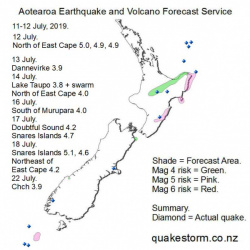 Click to Enlarge

Magnitude 5 risk locations are East Cape, Gisborne, Mahia, Wairoa, Waipukurau, Porangahau, Dannevirke, Eketahuna, Snares Islands.
Magnitude 4 risk locations are Opotiki, Whakatane, Rotorua, Lake Taupo, Tokoroa, Atiamuri, Taumarunui, Cape Campbell, Lower Arawhata.
This forecast is an extension of the previous forecast but with increased Magnitude in the North Island.
Solar conditions have been building up pressure since 9 July.
Possiblility Mag 6 New Zealand. Confidence=low.
Quakes are likely to be infrequent.
The period is likely to be extended.

Summary.
12 July.
North of East Cape 4.9 1.16am
North of East Cape 4.9 8.17am
North of East Cape 5.0 8.30am
13 July.
Dannevirke 3.9 7.44pm
14 July.
Lake Taupo 3.8 + swarm.
North of East Cape 4.0 8.44pm
16 July.
South of Murupara 4.0 12.46pm
17 July.
Doubtful Sound 4.2
Southwest of Snares Islands 4.7 11.57pm
18 July.
Southwest of Snares Islands 4.6 12.05am
Northwest of Snares Islands 5.1 6.28am
Northeast of East Cape 4.2 5.48pm
22 July.
Christchurch/Sydenham 3.9 8.43am
This forecast was quickly formulated and not followed up or updated.
Not updating the forecast was a big mistake because quakes in risk locations came for the next few days.
Additionally, local Mag 6 risk deserved closer attention.
Regardless, Mag 5 came both north and south of New Zealand about which the forecasters are happy, especially the more difficult Snares Islands risk location.
A significant quake swarm also came at Lake Taupo, the largest since observations began in 2013.
Christchurch received its first Mag 4 for some time and has been busy for the remainder of July at Mag 2/3.
Pressure is starting to steadily build in the South Island.


Content © Roary Arbon 2013 - 2016
Website Design by Go Tech.