Aotearoa Summary. 1 August 2019 - 4 August 2019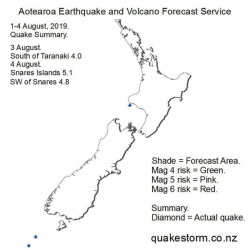 Click to Enlarge

This Summary is in lieu of a forecast for the period.
See Pacific Summary for explanation.

3 August.
South of Opunake 4.0 6.14am
4 August.
West of Snares Islands 5.1 12.11pm USGS, EMSC.
Southwest of Snares Islands 4.8 11.44pm USGS, EMSC.
Pressure showing again in the South Island.
Local quakes are becoming infrequent as solar activity lessens during Solar Minimum 2019-2020.
The 2019 Solar Minimum is now the lowest in a century as the sun cools and Earth enters a new Little Ice Age period and an uncertain tectonic period.
The Snares 5.1 was recorded by Geonet as 5.6 but their network array is unreliable for offshore quakes.
United States Geological Survey and European Mediterranean Seismological Center make more sense.
Snares Islands were a risk location in the 11-12 July forecast and likely to feature in the 5 August forecast as spaceweather and a new quake period approaches.
Solar geomagnetic effects on Earth are likely to increase in August as the active September solar equinox approaches and auroras increase.


Content © Roary Arbon 2013 - 2016
Website Design by Go Tech.