Pacific Summary Updated. 5 August 2019 - 13 August 2019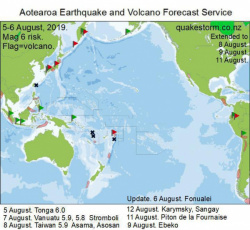 Click to Enlarge

Magnitude 6 risk locations are Auckland Island, Snares Islands, Kermadec Islands, Hihifo, South Banda Sea, Timor, Southern Sumatra, Southern Myanmar, Kinabalu, Western Celebes Sea, Northern Philippines, Southern Honshu, Northeast Honshu, Costa Rica, Atacama, South of Atacama, South of Valdivia, South Sandwich Islands.
Volcanic activity may increase.
Piton de la Fournaise, Stromboli, Ulawan, Tangkuban Parahu, Kerinci, Awu, Asosan, Veniaminof, Villarrica.
The period may last for several days.

Update. 5 August 9.45pm
5 August.
Northern Tonga/Pangai 6.0 9.01pm
Moderately strong solar quake driving conditions arrived about midday.
Pacific quakes have picked up in response.
No volcano news at present but volcanos may stay quiet for a few days.
The period is likely to last several days.

Update. 7 August 9.30pm
7 August.
Vanuatu 5.9 10.14am
Vanuatu 5.8 5.32pm
Eruption Stromboli
Solar conditions are drifting along in slow motion and may continue this way on 8 August.
No location success today from a very light/too light Southwest Pacific risk location base.
More action seems possible in Vanuatu later in the period.
Volcanos are apparently quiet.
Stromboli in the Tyrrhennian Sea is in constant strong eruption.
Quakes may be light again on 8 August, picking up late on 9 August.

Update. 8 August 11.15pm
8 August.
Taiwan 5.9
Eruption Asama, Asosan.
Pacific quakes were infrequent and below Mag 6 on 8 August, the largest Taiwan 5.9 not in a risk location.
Japanese volcanos are active, Asosan in steady light eruption.
New volcanic player Asama is northwest of Tokyo and very close to the Southern Honshu risk location.
The period may be going volcanic.
South American volcanos Ubinas and Sangay are hot and added as risk locations on 9 August.
Southern Vanuatu, Hindu Kush are added as Mag 6 risk locations on 9 August.
Quakes are likely to remain infrequent on 9 August, a pickup may occur late 10 August.

Update. 10 August 9.15pm
9 August.
Eruption Ebeko.
Quakes and eruptions were infrequent 9-10 August.
Solar conditions are increasing again tonight.
Pacific quakes may increase in frequency and magnitude 11-12 August.
Gulf of California, Titicaca are added to Mag 6 risk locations.
Possibility Mag 7 Pacific. Confidence=low.
Slamet, Kamchatka.

Summary.
5 August.
Northern Tonga/Pangai 6.0 9.01pm
7 August.
Vanuatu 5.9 10.14am
Vanuatu 5.8 5.32pm
Eruption Stromboli
8 August.
Taiwan 5.9
Eruption Asama, Asosan.
9 August.
Eruption Ebeko.
11 August.
Eruption Piton de la Fournaise
12 August.
Eruption Karymsky, Sangay
The 8 August outlook for the period to go volcanic is borne out.
Pacific quakes went quiet unless you live in the South Island of New Zealand.
The 8 August late adddition of Sangay to eruption risks is justified.
Piton de la Fournaise hardly erupted in a year way back in 2013-2015 but erupts several times annually 2017-2019.
No eruption during the period was large or caused any damage.
Solar conditions continue tonight but are weakening as the end of another typical Solar Minimum long period approaches.
Pacific quakes and eruptions are possible on 14 August.
Risk locations are changed for 14 August so a new forecast map is offered...although it is the same 5-14 August period.
Eruptions seem more likely than quakes.

Summary Updated. 20 August.
6-7 August.
Eruption Fonualei/80km NW Neiafu
Volcano data can be slow to come through.
More Pacific eruptions are possible with the arrival of solar wind on 22-23 August.





Content © Roary Arbon 2013 - 2016
Website Design by Go Tech.