Pacific Summary. 14 August 2019 - 15 August 2019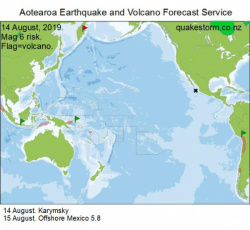 Click to Enlarge

Magnitude 6 risk locations are Titicaca, Atacama, North of Vallenar, Valdivia, Northern Vanuatu, New Britain, South Banda Sea, Timor, Northern Sumatra, Nicobar Islands, Hindu Kush.
Volcanic eruptions may increase.
Slamet, Ubinas, Bagana.
Any volcano erupting during the 5-13 August period may erupt again.
Quakes and eruptions are likely to be infrequent.
The period may end on 15 August.

Summary.
14 August.
Eruption Karymsky.
15 August.
Offshore Mexico 5.8 9.35am
This forecast attempted to pick up late action from a typically very long Solar Minimum quake period 5-13 August.
Solar conditions were weak but lingering and not much action occurred.

Content © Roary Arbon 2013 - 2016
Website Design by Go Tech.