Fonualei Erupts 6 August 2019 - 7 August 2019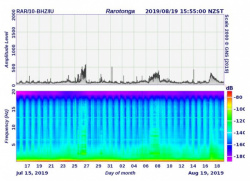 Click to Enlarge

The 6-7 August eruption of Northern Tonga volcano Fonualei probably started when a Mag 6.0 quake hit nearby late on 5 August.
The eruption is recorded by local seismologists on 6 August (see graph).
Sailors passing the remote volcano northwest of Neiafu report smoke, sulphur, discoloured sea and pumice rafts.
The eruption is added to the 5-12 August Pacific Summary as a good location success for the Hihifo/Tonga risk location.
More eruptions at Pacific locations, including Fonualei may occur with the arrival of solar wind on 22-23 August.



Content © Roary Arbon 2013 - 2016
Website Design by Go Tech.