Aotearoa Summary. 1 September 2019 - 5 September 2019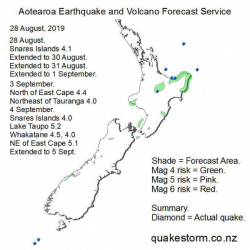 Click to Enlarge

Aotearoa Forecast. 28 August-5 September, 2019.
Magnitude 5 risk location is Landsborough Valley.
Magnitude 4 risk locations are Cascade River, Lower Arawhata, Haast, Upper Hokitika River, Otira, Reefton, Murchison, South of Wellington, Eastern Taranaki Bight, Masterton, Porangahau, Waipukurau, Gisborne, East Cape, Opotiki, Whakatane, Rotorua, Tokoroa, Atiamuri, Taupo, South Taranaki.
Volcanos quiet.
Quakes are likely to be infrequent at first, building to a peak 1 September.

Update. 29 August 11.30pm
50km Southwest of Snares Islands 4.1 12.19pm
This forecast map would look better if the late 27 August East Cape 4.8 was included.
Solar conditions arrived slightly early and the East Cape 4.8 arrived before a detailed forecast could be assembled.
A casual Facebook posting was the only warning.
Local quakes have been infrequent and may stay like that until a peak on 1 September.
Risk locations and magnitudes are unchanged.

Update. 30 August 10.30pm
Local quakes were quiet on 30 August.
Mag 4 quakes are likely to remain infrequent or absent until a potentially strong uptick on 1 September.

Update. 31 August 12.30pm
The expected 1 September increase in solar quake driving conditions is now here.
An uptick in quake frequency and magnitude will follow.
Lunar perigee and new moon modulation may center quakes around low tide.
South Island is higher risk.
Volcanos quiet.

Update. 1 September 10.30am
Aurora watchers are having a dreamtime as the energy from the sun flows in.
Quakes are tight however with little action.
A buildup is underway.
The period may go volcanic.
No data for volcanos today...its Sunday.
Local quakes, if any, may be lunar modulated to low tide.
Risk locations and magnitudes are unchanged.

Update. 2 September 6.30am
South of Fiji 6.7 3.54am
Spaceweather conditions are high today.
A 600km very deep Fiji quake is early action.
Hurricane Dorian has increased to Cat 5 with the increase in spaceweather.
Conditions look set to continue for a few days.
Risk locations and magnitudes are unchanged.
South Island is higher risk.
The forecast outlook for the period becoming very powerful is gaining substance.

Summary.
28 August.
50km Southwest of Snares Islands 4.1 12.19pm
3 September.
Northeast of Tauranga 4.0 10.41am
200km North of East Cape 4.4 2.36pm
4 September.
SW of Snares Islands 4.0 12.08am
Whakatane 4.5 2.23am
Lake Taupo 5.2 7.05pm
Whakatane 4.0 8.44pm
Northeast of East Cape 5.1 9.13pm
This forecast had some mistakes but overall picked up a strong local quake period on 4 September with good location success.
The South Island outlook for some big Haast action never happened, it was all on the North Island Volcanic Plateau.
The powerful 1 September aurora drove the action.
The Lake Taupo 5.2 was probably directly related to the March-April Gisborne slow slip event which moved all the land mass east of Taupo to the east, causing the Volcanic Plateau rift to open up.
The period was then extended to 5 September and beyond with some action.




Content © Roary Arbon 2013 - 2016
Website Design by Go Tech.