Stromboli Big Eruption 28 August 2019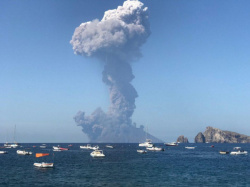 Click to Enlarge

Offshore Italy volcano Stromboli has gone off with the onset of solar quake and eruption conditions.
Stromboli was in a constant state of very low eruption until July.
Hikers could go right to the summit.
A big eruption in July had hikers running for their lives and the volcano has become very active.
The 28 August eruption is bigger than the July eruption according to locals.
A couple of big Pacific quakes have given the forecast period some substance but isolated activity only seems likely ahead of a strong peak on 1 August.

Content © Roary Arbon 2013 - 2016
Website Design by Go Tech.