Aotearoa Summary. 5 September 2019 - 22 September 2019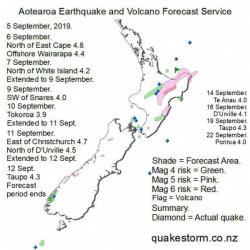 Click to Enlarge

Magnitude 6 risk locations are Kaingaroa, Waikaremoana. Mag 6 confidence=low.
Magnitude 5 risk locations are Northeast of East Cape, East Cape, White Island, Tokomaru Bay, Opotiki, Whakatane, Rotorua, Atiamuri, Taupo, Taihape, Ruahine Ranges, Hastings, Waipukurau, Porangahau, Haast, Landsborough River, Lower Arawhata, Pyke River.
Magnitude 4 risk locations are Tokoroa, Taumarunui, South of Taranaki, North of D'Urville Island, Wairoa, Dannevirke, Eketahuna, Masterton, South of Wellington, Murchison, Reefton, Otira, Upper Hokitika River, Te Anau, Doubtful Sound, Snares Islands.
A strong Lake Taupo quake swarm is likely to continue.
Strong North Island quakes arriving on 4 September are likely to continue for next couple of days at least as energy from 1 September aurora releases.
Volcanos quiet.

Update. 6 September 1.45pm
6 September.
200km North of East Cape 4.8 10.15am
Lake Taupo Mag 2-3 swarm.
Quakes were quiet on 5 September.
A strong quake swarm continues at Lake Taupo and is directly related to the March-April Gisborne slow slip event.
Solar quake driving conditions are moderate and likely to continue for the next two days with new conditions due late 8 September.
The slow quake response time is a function of sluggish solar minimum conditions.
Weather is also slowing. Despite media talk of former Cat 5 Hurricane Dorian one of the biggest ever, major tropical storms are decreasing in frequency and size since 2016 as the sun enters its weakest activity level in a century.
The slow moving nature of Dorian and other major tropical storms is another factor related to slowing solar activity.
Sluggish equatorial winds have failed to drive Hurricane Dorian onshore so far and the storm may stay out at sea, eventually drifting on towards Greenland where it may then deposit large snowfalls.
Local quakes are likely to remain low frequency on 6/7 September but high magnitude is possible.
Risk locations and magnitudes are unchanged.

Update. 9 September 12.00am
6 September.
Offshore Wairarapa 4.4 7.25pm
7 September.
North of White Island 4.2 8.49am
Quake conditions have become very challenging.
Solar conditions have been steady right through the period but quakes and eruptions are sparse.
Solar wind has increased slightly tonight as the late 8 September uptick (see Pacific Forecast) arrives.
Local seismic data still shows pressure so the forecast is extended to 9 September and low confidence.
North of Motiti Island is added to Mag 4 risk locations.
White Island is slowly heating.
Possibility for phreatic (steam) eruption.
Lake Taupo is still quake swarming following the 4 September 5.2.
The March-April Gisborne slow slip opened the volcanic rift from Lake Taupo to White Island as the land to the east of the rift moved slightly eastward.
Quake activity and heating along the slightly opened rift is now following.
A rare upper stratospheric South Pole twin vortex has formed during the period so jetstreams are likely to become disturbed in the next days/weeks with some stormy and possibly very cold weather around New Zealand and Western Australia and hot winds in Eastern Australia.
Strong auroras from 1 September have powered up slow moving Cat 5 Hurricane Dorian.
The hurricane is likely to create large snowfalls when it intersects Greenland in two days, reversing the big June-August summer melt.

Update. 10 September 10.00am
9 September.
Southwest of Snares Islands 4.0 8.06pm
10 September.
Tokoroa 3.9 6.08am (4.3 USGS, EMSC)
Spaceweather has picked up again overnight and continues to blow strongly today.
The forecast period has become very long due to the long lasting solar windstream going back to 1 September.
Pacific and local quakes are very subdued which hasn't been a very good sign previously.
A buildup could still be underway.
Solar wind is likely to blow until at least 11 September.
Local quake action remains on the Volcanic Plateau.
Background seismicity is high and fluctuating.
The period may be going volcanic with more quakes possible at Lake Taupo or a minor steam eruption at White Island.
Risk locations and magnitudes are unchanged.
Pacific outlook is also extended. An update will be posted later.

Update. 12 September 10.00am
11 September.
300km East of Christchurch 4.7 10.32am
Northeast of D'Urville Island 4.5 6.57pm
Quake action has shifted to the South Island.
The Upper South Island...Murchison, Upper Taramakau, Arthurs Pass, Hanmer, Hurunui are higher risk for quakes as the end of another very long Little Ice Age forecast period approaches.
Offshore Pacific quakes during the period indicate large movement, consistent with the March-April 2019 Gisborne slow slip event, the largest slow slip since 2010 and which led to the 4 September, 2010 Darfield 7.1.
The period is extended to 12 September.

Summary.
6 September.
200km North of East Cape 4.8 10.15am
Lake Taupo Mag 2-3 swarm.
Offshore Wairarapa 4.4 7.25pm
7 September.
North of White Island 4.2 8.49am
9 September.
Southwest of Snares Islands 4.0 8.06pm
10 September.
Tokoroa 3.9 6.08am (4.3 USGS, EMSC)
11 September.
300km East of Christchurch 4.7 10.32am
Northeast of D'Urville Island 4.5 6.57pm
12 September.
Kinloch 4.3 5.28am
14 September.
Te Anau 4.0 4.19pm
16 September.
Northeast of D'Urville Island 4.1 4.47pm
19 September.
Kinloch 4.3 12.35pm
20 September.
New Brighton 3.0 4.31pm
22 September.
Porirua 4.0 9.58pm
Solar conditions during the period were steady with regular equinoxal auroras.
Quakes were generally sluggish to respond as the map indicates, continuing to unwind for several days after the forecast was dropped.
Location success was good however with most quakes falling into risk locations and ominous offshore Pacific quakes indicating that a big Pacific push may be underway.
The March-April 2019 Gisborne slow slip event was an indicator for following major quake activity such as in 2010 when a Gisborne slow slip event and following spring equinoxal auroras drove the 4 September Darfield 7.0.
Conditions in 2019 are similar to 2010.
South Island still shows signs of movement.
Christchurch/Rolleston were busy during the period but at low magnitude.
The Mag 6 outlook for Murupara never worked although Lake Taupo has quake swarmed for days.
White Island went quiet soon after the low level eruption risk was posted.
White Island may be an eruption risk later on in a new forecast period beginning 24 September with a second bigger peak 28 September.
A large South Pole double stratospheric vortex has formed and strengthened during the period.
The double vortex is likely a result of low solar activity and has expanded the size of the polar airmass, pushing it outward from the South Pole towards NZ, South America, South Africa, Australia and driving some cold weather, high Southern Alps snowfall and leading an increasing number of people to question the wisdom of climate change/global warming predictions from UN politicians.

Content © Roary Arbon 2013 - 2016
Website Design by Go Tech.