Pacific Summary. 5 September 2019 - 12 September 2019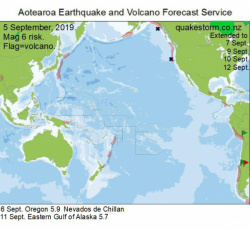 Click to Enlarge

Magnitude 6 risk locations are New Zealand, Kermadec Islands, Tonga, Kuril Islands, Aleutian Islands, Vancouver Island, Offshore Oregon, Costa Rica, Central Peru, Southern Peru, Titicaca, South Sandwich Islands.
Volcanic activity may increase.
Ubinas, Nevados de Chillan, Piton de la Fournaise.
The period is likely to be extended.

Update. 6 September 3.00pm
6 September.
Offshore Oregon 5.9 3.02am
Pacific quakes are active with a big uptick in frequency but magnitudes have been below Mag 6.
Good location success so far.
Volcanos are quiet.
Solar conditions are steady and likely to continue for the next two days ahead of another solar and quake increase late 8 September.
A Pacific quake buildup is probably still underway.
The forecast period is extended to 7 September.
Southern Chile, Inland Southern Mexico are added to Mag 6 risk locations.

Update. 9 September 1.00am
Solar quake and eruption driving conditions are steady and picking up slightly tonight.
Pacific quakes and eruptions are eerily quiet.
The forecast map is heavily weighted on the Eastern Pacific.
No risk locations across much of the SW Pacific or Indonesia.
The forecasters are challenged and the forecast is now low confidence.
Former Cat 5 Hurricane Dorian is now moving towards Greenland where climate change experts studying ice loss are likely to be heavily snowed on.
A rare South Pole stratospheric double vortex has formed during the period and is likely to shift the jetstreams substantially in the next few days/weeks resulting in stormy, cold weather for Western Australia and New Zealand and hot winds for Eastern Australia.
Izu Islands, Eastern Honshu, Eastern Gulf of Alaska are added to Mag 6 risk locations.

Update. 12 September 1.00am
11 September.
Eastern Gulf of Alaska 5.7 8.32am
Quakes and eruptions remain eerily quiet.
The addition of Eastern Gulf of Alaska to Mag 6 risk locations has been justified.
Challenging forecast conditions during the period have given the sceptics a field day up to the Gulf of Alaska 5.7, the biggest Pacific quake in 5 days.
The forecasters are celebrating the first ever forecast for this location however.
North America is the hotspot so far during the period.
Solar conditions are now falling rapidly as the end of the forecast period approaches.
The forecast is extended to 12 September.
Western New Britain, Eastern Papua New Guinea are added to Mag 6 risk locations.

Summary.
6 September.
Offshore Oregon 5.9 3.02am
Eruption Nevados de Chillan
11 September.
Eastern Gulf of Alaska 5.7 8.32am
19 September.
Java Sea 6.2 7.06pm
Java Sea 6.0 7.32pm
The period was more notable for large weather events than quakes or eruptions.
Cat 5 Hurricane Dorian moved along the USA Atlantic coast and a rare and apparently large South Pole double vortex formed.
The Eastern Gulf of Alaska 5.7 was an excellent location success in an area never forecasted before.
Spaceweather was generally strong during the period so the forecasters are left wondering why a stronger quake or eruption release didn't happen.
The 19 September Java Sea sequence is the only activity since the forecast was dropped on 12 September.
A moderate new forecast period is due 24 September and could build up to a stronger peak 28 September.


Content © Roary Arbon 2013 - 2016
Website Design by Go Tech.