Greenland Snow Forecast. 10 September 2019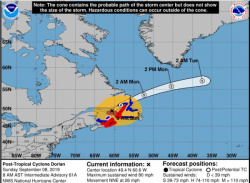 Click to Enlarge

Former Cat 5 Hurricane Dorian has tracked along the USA East Coast since churning the Northern Bahamas into a morass.
Dorian is forecast to pass near Greenland by Tuesday.
Climate change scientists and mainstream media have saturated news bulletins with the big June-August Greenland melt.
The amount of snow Dorian delivers to the Greenland Ice Cap will likely reverse all the summer melt.
No amount of hot air created by climate change scientists, politicians, car exhausts or forest fires can heat the planet even a tiny bit.
The sun, the moon and the changing orbit of Earth are the only drivers of weather, quakes and eruptions.
Low solar activity since 2016 has taken Earth into a Little Ice Age with exactly the same weather patterns as observed by meteorologists in recent Little Ice Ages.
Cold, wet, stormy, tornados, giant hail, big weather fluctuations, heatwaves are typical of solar driven Little Ice Ages.
Major tropical storms have decreased since 2016 as the stratosphere cools and have become slow moving as equatorial winds weaken.
Flooding increases as the slow moving storms take longer to pass.
Time will tell how much snow Hurricane Dorian drops on Greenland.
Data courtesy NOAA.

Content © Roary Arbon 2013 - 2016
Website Design by Go Tech.