Aotearoa Summary. 1 October 2019 - 7 October 2019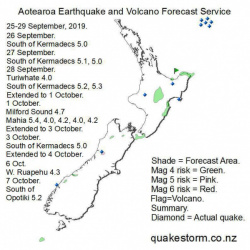 Click to Enlarge

Aotearoa Summary. 25 September-4 October, 2019.
Magnitude 5 risk location is Turiwhate.
Magnitude 4 risk locations are Snares Islands, Pyke River, Haast, Lower Landsborough Valley, Murchison, Inangahua, Upper Wairau Valley, Cape Campbell, Southern Cook Strait, Turakirae Head, Dannevirke, Porangahau, Waipukurau, Southern Hawkes Bay, Taihape, Murupara, Taupo, Atiamuri, Kinloch, Whakatane, East Cape.
Possible phreatic (steam) eruption White Island late in the period.
Possibility Mag 6 New Zealand. Confidence=low.
The period may build to a peak on 29 September and is likely to be extended.
Quakes may be lunar modulated to low tide later in the period.
The April 2019 long term outlook for a local Mag 6 quake during the September, October, November equinox period is current.

Update. 27 September 11.30pm
26 September.
South of Kermadec Islands 5.0 2.34pm
27 September.
South of Kermadecs 5.1 1.06am
South of Kermadecs 5.0 11.59pm
Spaceweather arrived on cue but died away quickly.
Equatorial quakes have occurred but the spaceweather hasn't been enough to drive local quakes.
Geonet have announced heating with geysers at White Island. The volcano has been active for three weeks according to vulcanologists.
This announcement fits well with the 7 September forecast outlook....three weeks ago and the current forecast.
Strong spaceweather due on 29 September looks like arriving earlier on 28 September.
Local quakes and activity at White Island may pick up strongly from 28 September.
Risk locations and magnitudes are unchanged.

Update. 29 September 12.30am
28 September.
Turiwhate 4.0 12.17am
South of Kermadecs 5.2 3.21am
South of Kermadecs 5.3 5.26am
Bringing forward the 29 September arrival of spaceweather to 28 September was justified with the arrival of the Kermadecs 6.0 soon after.
The Kermadecs 6.0 was followed by the Turiwhate 4.0 twelve minutes later....there is a link.
The forecast has gained substance.
Geonet vulcanologists announcement that White Island has been hot for three weeks has also given confidence to the forecasters.
White Island looks to be entering the same phase as the 2012 eruption sequence and some of the earliest forecasts from this service.
Strong spaceweather is likely to bring more quakes and a phreatic (steam) or low level ash eruption at White Island next few days with a possible peak on 1 October.
Uncertainties exist at Turiwhate next few days. The Turiwhate sequence which has lasted several days is under nearby Mt French.
Mt French is uniquely positioned at the junction of the Alpine Fault and the Hope Fault, running across to Hanmer/Kaikoura.
Quakes at this location have never been observed before by the forecasters but the junction of the two major South Island faults seems like a risky location.
Possibility Mag 6 New Zealand is current. Confidence=low.

Update. 30 September 10.30pm
Local quakes are quiet.
Spaceweather is running along steadily and to forecast expectations.
The outlook for a quake pickup 1 October remains.
No White Island eruption so far in the period....only geysering and steam.
Data indicates that a low level eruption is still possible during the period.
The forecast period is extended to 1 October.
New Zealand Mag 6 confidence=low.

Update. 2 October 4.30pm
1 October.
Milford Sound 4.7 10.07am
Mahia 5.4 6.16pm
Mahia 4.0 9.08pm
Mahia 4.2 10.52pm
The forecasted 1 October quake uptick has arrived.
The Mahia 5.4 was felt across the North Island and northern South Island.
Location success has been patchy.
The often forecasted Mahia/Wairoa risk location was dropped this forecast in preference to less frequently forecasted Southern Hawkes Bay.
Isolated residual quakes may still affect Mahia, Southern Hawkes Bay, Taupo and Northern Wairarapa as the period runs out of energy next couple of days.
Residual isolated quakes may also affect risk locations at Pyke River, Haast and Milford Sound.
White Island data indicates the volcano is still hot and possibly in a long slow buildup phase in similar fashion to the early 2013 eruption sequence and earliest forecasts from this service.
The forecast period is extended to 3 April.
Quakes are likely to be isolated.

Update. 3 October 11.00pm
2 October.
Mahia 4.0 6.30pm
Mahia 4.2 11.05pm
South of Kermadecs 5.0 8.59pm
Quakes are fading away as spaceweather weakens and the end of the forecast period approaches.
Slightly increasing spaceweather is possible for a brief period late 4 October before going quiet.
Local quakes are possible late 4 October.
Quakes show a tendency with Solar Minimum and Little Ice Age spaceweather conditions to come very late in the forecast period.
Mag 5/6 seems very unlikely.
No news for White Island but data still indicates that the volcano may be still geysering and may go into low level eruption in the next days or weeks.

Summary.
26 September.
South of Kermadec Islands 5.0 2.34pm
27 September.
South of Kermadecs 5.1 1.06am
South of Kermadecs 5.0 11.59pm
28 September.
Turiwhate 4.0 12.17am
South of Kermadecs 5.2 3.21am
South of Kermadecs 5.3 5.26am
1 October.
Milford Sound 4.7 10.07am
Mahia 5.4 6.16pm
Mahia 4.0 9.08pm
Mahia 4.2 10.52pm
2 October.
Mahia 4.0 6.30pm
Mahia 4.2 11.05pm
South of Kermadecs 5.0 8.59pm
6 October.
50km West of Ruapehu 4.3 11.00pm
7 October.
20 km South of Opotiki 5.2 4.29pm

The forecast period has brought heavy action to Mahia, Opotiki and steady Mag 5 quakes north of New Zealand.
Additionally, new activity under Mt French on the West Coast is at the juncture of the Alpine and Hope Faults.
Spaceweather during the period was moderate as the sun enters the lowest Solar Minimum in a century.
The heavy action gives some credit to the long term outlook from April for an active Spring Equinox quake season and heightened Mag 6 risk.
Reducing Cental North Island and Bay of Plenty risk locations from the usual wider sweep of risk locations has given mixed results.
The Mahia 5.4 was in the often forecasted Wairoa zone but the addition of Hawkes Bay as an alternative quake location to Wairoa hasn't worked.
The South of Opotiki 5.2 has given reasonable location success on the other hand.
The forecast wasn't updated from 4 October.
The late arrival of the 7 October Opotiki 5.2 is added to the period but outside time parameters.
Quakes then went quiet until 10 October. (see separate Summary)
White Island news is sparse.
Vulcanologists announced early in the period that the volcano had been geysering and steaming for three weeks, fitting earlier forecast outlooks to a degree.
Data indicates the volcano remained hot during the period but no more reports from the vulcanologists as to any ongoing activity.
White Island has cooled since the period ended and may become more active again as a new period builds from 25 October.
A 10-21 October Aotearoa Quake Summary is posted separately.
Note. South of Kermadecs Mag 5.0 quakes and larger only are posted. South of Kermadecs quakes have location and depth inaccuracies on the Geonet system due to limitations in the seismograph network and no fault of the seismologists...its more about money. USGS and EMSC networks give better results for South of Kermadecs.
More info available on Facebook/Aotearoa Earthquake and Volcano Forecast Service or the Facebook/Roary Arbon control group.





Content © Roary Arbon 2013 - 2016
Website Design by Go Tech.