George Sound Quake News 25 October 2019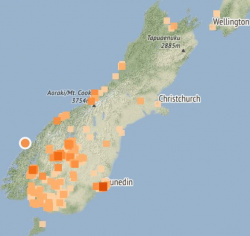 Click to Enlarge

A new quake period is underway.
The accompanying quake forecast is a shambles so far.
The forecasters saw the arrival of new spaceweather last night but were unable to make a detailed forecast so decided to make a quick Facebook post as next best option.
The problem was that the Milford Sound 5.6 went off six minutes before the post was made...the forecasters threw in the towel and went to bed.
The quake was widely felt across the lower South Island and centered just off George Sound.
George Sound was quaking for two days prior to this quake (Mag 4.0 and 3.5) and a fair risk location.
Additionally, United States Geological Survey and European Mediterranean Seismological Center both recorded the quake at a more modest Mag 5.0.
You choose the correct Magnitude.
A long quake period appears to be unfolding.
Hopefully the forecast can pick out a new quake peak from 28 October and isolated action in between.
The April 2019 long term outlook for a Spring 2019 Mag 6 quake is still current.
Thanks.

Content © Roary Arbon 2013 - 2016
Website Design by Go Tech.