Kaimai Ranges 5.0 28 October 2019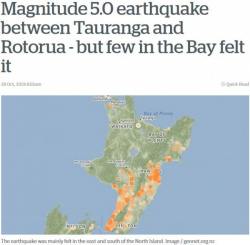 Click to Enlarge

Todays 5.44am Kaimai Ranges 5.0 was felt strongly in Hawkes Bay, Horowhenua and Wellington.
Quake energy being electromagnetic by nature does tend to follow certain pathways.
Understanding the paths is key to forecasting.
The forecasters went looking for action north of Motiti Island...
Spaceweather is strong and steady today so the outlook for a 28 October quake peak gains substance.

Content © Roary Arbon 2013 - 2016
Website Design by Go Tech.