Pacific Summary. 12 November 2019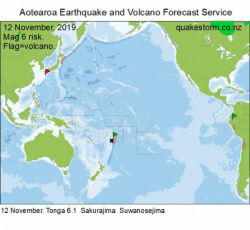 Click to Enlarge

Magnitude 6 risk locations are Tonga, Northeastern Honshu, Hokkaido, Central Peru, Atacama.
Volcanic activity may increase.
Lateiki, Sangay.
Spaceweather is moderate, the period is likely to be brief.

Summary.
12 November.
Tonga/NW of Pangai 6.1 12.03pm
Eruption Sakurajima, Suwanosejima.
The Aotearoa Forecast was posted 20 minutes too late and was a shambles but the Pacific Forecast worked from a very narrow risk location base and a great success.
Plenty of action still in the same Tongan location as previous forecasts.
In the same area news for remote Tongan volcano Lateiki is sparse.
Strong eruptions at Sakurajima and Suwanosejima.
Spaceweather lasted only a day before fading.
A new and more powerful quake spell begins 20 November.



Content © Roary Arbon 2013 - 2016
Website Design by Go Tech.